GM TPMS Sensor Replacement
If a sensor proves faulty or is damaged then it will need to be replaced. This requires a new sensor to be fitted and the BCM to be reprogrammed with its unique ID and its position on the vehicle. The procedures for all vehicles including GM vehicles are illustrated in the Bartec 'Tire Pressure Monitoring Systems Guide' which shows service requirements, reset procedures, dismounting/mounting instructions, torque specifications etc for all makes/models and years. The relearning process will also be required in the event of wheel rotation. In principle the static relearn process requires the car to be put into learn mode followed by activating each TPMS in turn (LF, RF, RR, LR) enabling each of the TPMS unique ID numbers to be loaded into the BCM. Each time a code has been successfully loaded the horn acknowledges. The system will cancel the warning light if two minutes pass and no further ID's are learned or if the system has been in learn mode for more than five minutes.
The technician should always: refer to manufacturer's specifications for proper torque requirements when replacing nuts and valve cores; use new grommets, nuts, plastic or nickel-plated valve caps and electro-less, nickel-plated valve cores when performing any tire service; never use a brass valve core or un-plated brass cap with an aluminium TPMS sensor stem. Contact between dissimilar metals can cause galvanic corrosion, which can lead to loss of air pressure.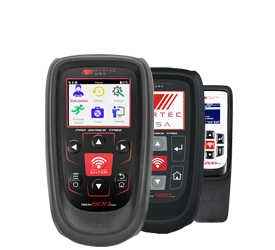 Note: The technician should avoid the use of any liquid or tire sealant injected into tires equipped with TPMS as this may block the pressure port and cause malfunction. If evidence of the use of tire sealant is noted upon dismounting the tire, it is highly recommended that the TPMS are replaced. It is also very important to remove all residual sealant from the inside of the tire and rim surfaces prior to re-installing the tire.
Following reprogramming of the BCM a further audit of the car is recommended to produce evidence of the work carried out.
Please browse our website for more information about Bartec USA LLC and our range of GM TPMS Tools and our professional GM Tire Pressure Monitoring System support, then toll free 855 877 9732 and speak to one of our team or e-mail us at sales@bartecusa.com.